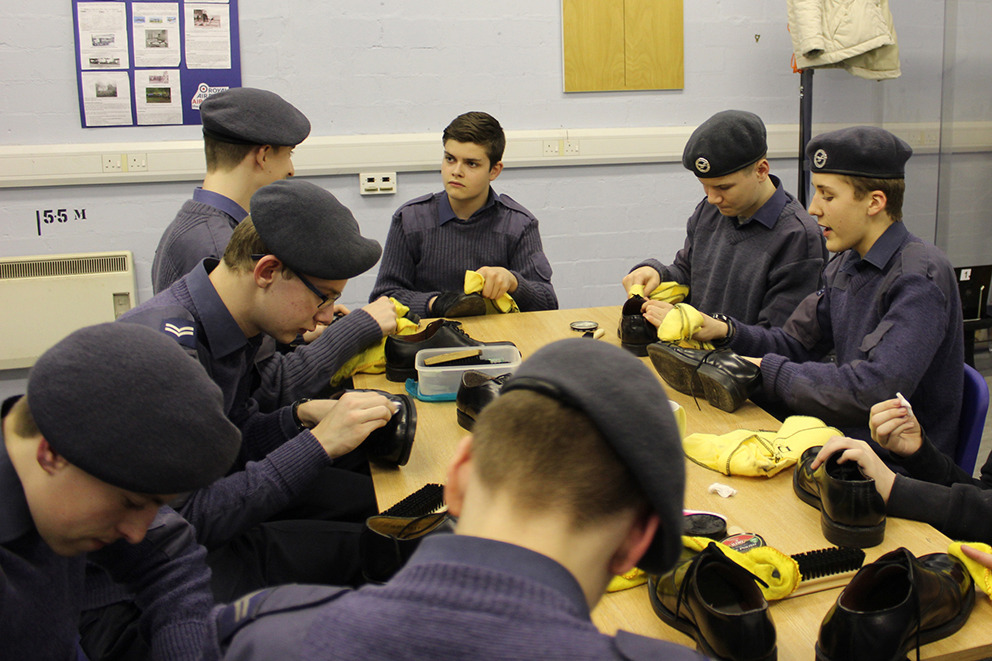 C.I. Sue Hobbs, Squadron Adjutant from 1414 (Crowborough) Sqn invited Cadet Direct to visit and put on a polishing and bulling workshop for the Air Cadets. We were asked to demonstrate how to give parade shoes that all important mirror finish - an important requirement for parades such as Remembrance Sunday.
The idea was to demonstrate that when equipped with the right tools and with just a few simple steps (and a bit of patience!) anyone can get their shoes and boots to shine with a mirror finish!
Our Managing Director James Munday and General Manager Andy Salmon kicked off the session by showing the cadets the correct tools required for the job at hand. Then they distributed some free goodies which included boot brushes, Kiwi Parade Gloss polish, polishing cloths and shoe care kits.

1414 (Crowborough) Sqn RAFAC listen and watch Cadet Direct's bulling demonstration
To start with, cadets either used the Dasco Applicator Brush or old toothbrushes brought from home to remove dirt from their parade shoes, especially in the hard to get to areas such as the welt (this is where the sole attaches to the upper shoe). Once all visible dirt was removed and the footwear was dry, Web-tex Boot Brushes were used to put on and then brush to a shine a good layer of  Kiwi Parade Gloss Prestige Polish.  This forms a sound base before starting to bull. Finally, both cotton wool and the Selvyt PR Premium Polishing Cloth that would be used in conjunction with water and polish to provide that all important bulling shine.
Once the cadets were equipped with all the right tools, James then demonstrated to the cadets how to use them all, explaining that although bulling shoes may seem a daunting task, patience and effort would pay off in the end. After the demonstration was complete the cadets were then tasked with getting their own parade shoes up to standard. As an extra incentive a prize was offered to the cadet with the shoes judged to be the best by the OC at the end of the night.
The two tables full of 1414 (Crowborough) Squadron were then a blur of activity for the next 1.5-2 hours. With copious amounts of cleaning, brushing, water dabbing, polish dipping and cloth rubbing going on, with James and Andy providing additional tips and help when needed.

James Munday providing help and tips as the Cadet's get to work.
Andy's son Jake from 2530 (Uckfield) Sqn ATC also came along to help and was quickly put to use working on a very muddy pair of assault boots to demonstrate how they can be cleaned and polished and to provide cadets with a before and after sample.
Cpl Jake Salmon from 2530 (Uckfield) Sqn ATC demonstrated polishing and bulling a pair of lightweight assault boots.
The effort and concentration shown by the cadets was very impressive and fairly quickly some of the cadets were rewarded with that sought after shine on their shoes. The cadets with less initial success were encouraged to try different techniques and find the method that would work best for them. It wasn't long before the tables were full of parade ready shoes, completed, ready for the final inspection by the OC.
All the hard work is starting to pay off!
Various different bulling techniques, using a variety of brushes and cloths
After a quick clear up, when all the Cadet Direct freebies were claimed and packed away ready for use again before the next parade, the cadets formed a line ready for inspection.
1414 (Crowborough) Sqn line up for inspection.
The OC had a tough job picking out one cadet's shoes from all the excellent efforts on display, but finally settled on Cpl Warner as the prize winner. Congratulations to Cpl Warner and we'll be seeing him again soon, when he pops in to see us, to collect some kit as his prize.
Winner Cpl Warner (right) hard at work bulling his shoes.
Hopefully the Cadets from 1414 (Crowborough) Squadron will put their new skills to good use, ready for their next parade!