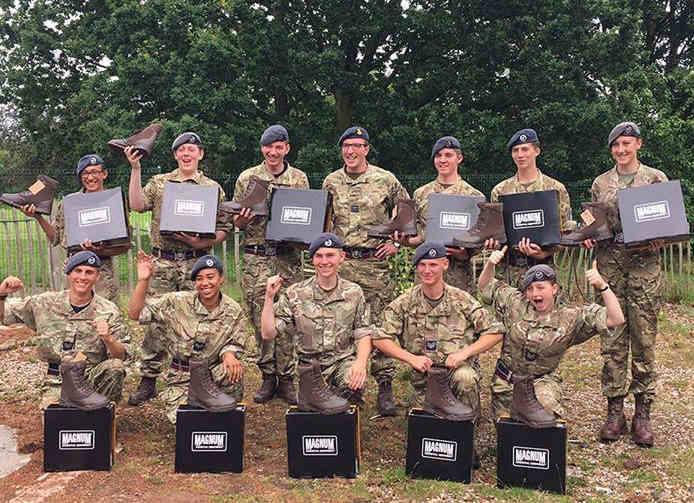 The South & East Midlands Wing Air Cadets Road Marching Team has just received their 14 pair FREE pairs of Magnum Classic boots in time for the Nijmegen Marches 2016 and are excited to see the impact the issued boots will make on their performance.
Sgt Tom Chambers from 2070 (Glenfield) Squadron ATC said, "I'm thoroughly elated for our team to receive the Cadet Direct, Magnum Sponsorship, supporting South & East Midlands Wing ATC at the Nijmegen marches in July. Magnum are known for their high quality and our team is proud to be awarded with this sponsorship deal. I'm sure it'll have more than a positive boost for our team. We cannot wait to see what we can achieve given this fantastic opportunity!" .
The cadets have been training rigorously for the challenge since the very start of the year, racking up over 400 miles in training and qualifying. For their hard work and efforts to be paying off through such a fantastic sponsorship is "a huge privilege", said FS Oliver Hardingham, 1211 (Swadlincote) Squadron ATC. The cadets are looking forward to the remaining time in training they have, as well as the fantastic time anticipated when they go over to Holland in July.
Sgt Rebekah Oldknow, 209 (West Bridgford) Squadron ATC, said – "I'm thrilled that our team has received the very generous sponsorship from Cadet Direct and magnum (a brand that has helped me through all my previous training!) It's exciting to be able to represent them at the Nijmegen marches! I can't wait for the challenge and to see the impact on the team's morale!"
You can find out more about Magnum boots including reviews by clicking here.