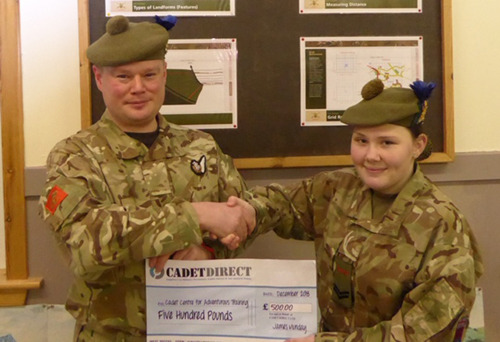 Cadet Direct presented one of its £500 skiing bursary cheques to a well deserving cadet in December. The bursary is for a weeks skiing course in Bavaria, Germany next February. Courses to Bavaria are run by CCAT and are open to CFAV's and cadets aged 16 or over from the ACF and CCF.
This year, one of the winning cadets was Cadet Corporal Emma Monk, Benbecula Detachment ACF. Emma lives in Benbecula, an Island of the Outer Hebrides in the Atlantic Ocean off the west coast of Scotland. Benbecula in Gaelic is Beinn na Faoghla which means Mountain of the Ford. Our winning cadet will be swapping one 'mountain' for another when she attends the skiing course later this year.
As a cadet living in the Outer Hebrides, Emma does not have the same opportunities to participate in the wider cadet experience as other cadets do. So hopefully she will benefit considerably from the experience of traveling to Bavaria, taking part in an adventurous training activity, with the opportunity of self-improvement and character development.
Emma was presented the bursary payment at the company's annual Military Skills weekend in Stornoway by David Walker Sergeant Instructor, Detachment Commander. David told Cadet Direct "I have known Emma since she started at Benbecula and she is thoroughly deserving of this massive opportunity as I am aware first-hand of the obstacles she has overcame to become the young woman she is today. Emma is an extremely motivated and determined individual who displays an incredible amount of enthusiasm for all cadet activities, which has been obvious since her first night as a recruit. As the senior cadet at Benbecula detachment and in the Western Isles Company, Emma leads by example".
Cadet Direct is proud to be involved in sponsoring Emma and other really deserving cadets – who otherwise would have been unlikely to be able to attend.
We hope Emma has an amazing time in Baravia!