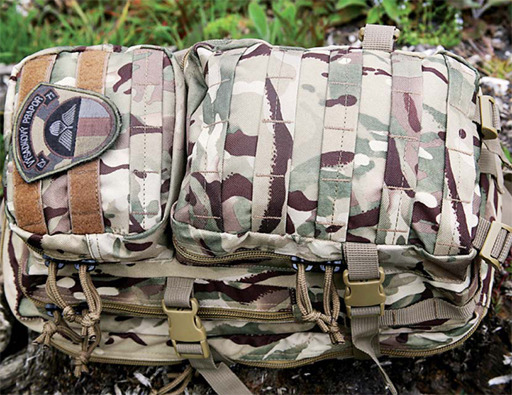 Observant regular readers may have spotted that I have recently been keeping an eye out for a replacement daysack to use as an airline carry-on/camera bag as my old, well-loved and almost perfect, but no longer made, Source Assault 10 pack is on its last legs after years of use and abuse. To cut a long story short, Cadet Direct suggested I look at their own KAMMO Tactical packs range.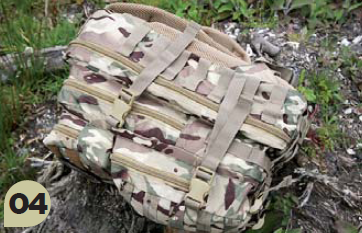 24 Litre MTP Small Tactical Assault Pack
The triple layer layout is noticeable here – note also the side compression straps and buckles.
From the outset I must make it clear that the KAMMO tactical range, which currently includes four packs plus webbing and a load carriage vest, is intended primarily for exercise use; the target market being Cadets and Reservists who wish to self purchase kit to make their lives easier without breaking the bank when they are only going to use it occasionally. That said, this budget range is both nicely thought out and well constructed even though it is not expected to serve daily on a six to eight month operational tour.

Strong Zippered Pockets and Mesh Pouches

Outer compartments (zipped pouches) propped open with twigs – note organiser pockets
This 24-litre capacity pack, which measures roughly 450x320x220mm, will easily fit even budget airline carryon gauges if not over filled and it is even feasible to attach pouches down one side and still remain within the limits. What really caught my eye with this one, however, was the relatively unusual triple compartment layer layout; to avoid potential confusion, looking at the pack from behind the wearer I will designate these Outer, Mid and Main.
The Main compartment
The Main compartment has a document pocket on the back wall and mesh pocket under the front lid.
The full size of the pack has a double action zipper around top and both sides plus part of the base to give full access, has a small but near full width zipped nylon document pocket on its back wall and has a roughly half-depth open-topped mesh pocket on the front face / lid. There are hanging cords for a hydration bladder and a hole for the drinking tube at the top; this, in my opinion, is the only negative feature of the design as I feel the hole is too large and could potentially let in rainfall.
06: The Mid compartment with lid folded back to reveal mesh and nylon keepsafe pockets.
The Mid Compartment
Has a double action zipper over the top and down both sides a little over halfway and, other than a couple of mesh pockets atop a nylon pocket on its back wall it is empty.
The Outer Compartment
Layer consists of a medium sized top pouch and a large lower pouch, both of which have double action zippers; the lower pouch has an organiser panel on its back wall with large and small pockets and three pen sleeves.
The rear sleeve is just large enough to take a netbook inside its own padded wallet (not included).
Externally, the pack has: five rows of PALS tapes made from folded 1000D nylon, rather than heavy duty tape, on the outer face of the lower compartment; two rows of felt faced PALS tapes, for attachment of name tapes or badges, plus a lower row of folded pack nylon tape on the face of the upper pouch; seven rows of heavy duty PALS tape down each side of the main compartment; note only narrow pouches will fit; two tapes with buckles for attaching a kip mat or similar to the base; two compression straps with quick release buttons on each side; and a grab handle at the top. On the face of the pack worn against the back there is a sleeve pocket inside which a small hydration bladder or a netbook could be slipped, but my personal feeling is that this is not quite deep enough. The padded back panel is constructed from closed cell foam, as are the adjustable shoulder straps, but it should be noted that the pack does not come with either a stiffening back board or a sternum strap. There is also a simple waistbelt to share the load, but this can be easily removed if you are wearing belt order.
I tried fitting a reasonably standard size 100oz Camelbak bladder in the sleeve but it was too large.
Although not perfect, this compact pack has sufficient interesting features to make it worth consideration, and with a price tag of just under £35 it is good value for money. Additionally, as it only weighs 900g when empty it will not take up too much carry-on weight allowance. Finally, as it has been produced in 1000D waterproof nylon in UK MTP camouflage pattern it should keep even a pedantic sergeant major or PSI happy.
Each pack currently comes with two free and handy Web Dominators for tidying up loose straps.
I suspect I will make good use of this one on my next major assignment. For more on the KAMMO tactical range please go here.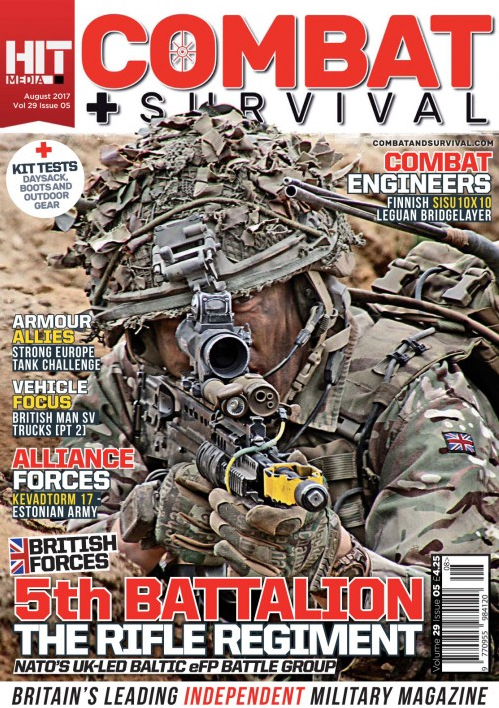 Written by Bob Morrison at Combat & Survival Magazine
"Keeping you up to spec on a multitude of topics, ranging from comprehensive kit advice, weapons and hardware reviews, and trouble-zone news to battle tactics." - Combat & Survival.