Published: May 21, 2018
by James Munday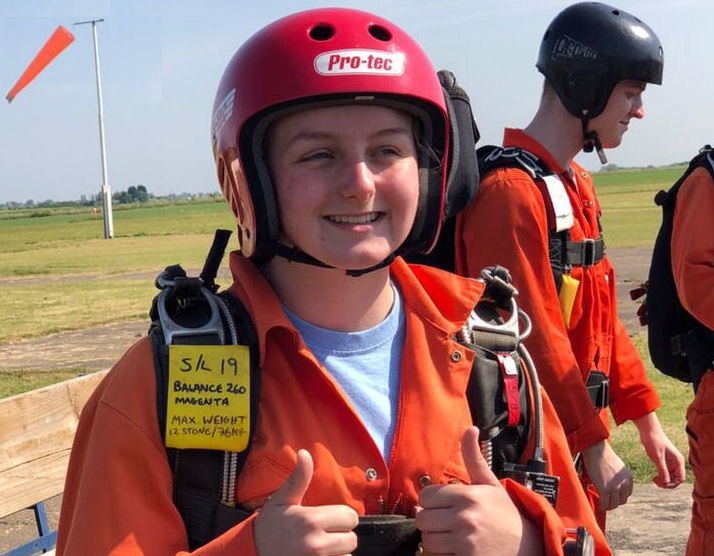 An Air Cadet has quite literally thrown herself into raising money for the Royal Air Force Association by jumping out of a perfectly good aeroplane! 
RAF Charity Supported by Air Cadet
18 year old Cadet Warrant Officer Rebekah Oldknow, who is based at 209 (West Bridgford) Squadron, Air Training Corps, has been busy raising money for this important charity. The RAFA charity aims to help anyone within the Royal Air Force family who needs support, whether that be current serving personnel, ex-RAF personnel and/or their families. The support that they offer can be supplied through practical assistance, expert advice or emotional support – all of these elements significantly turn people's lives around. The charity relies entirely on donations, which is why Rebekah was so keen to support them!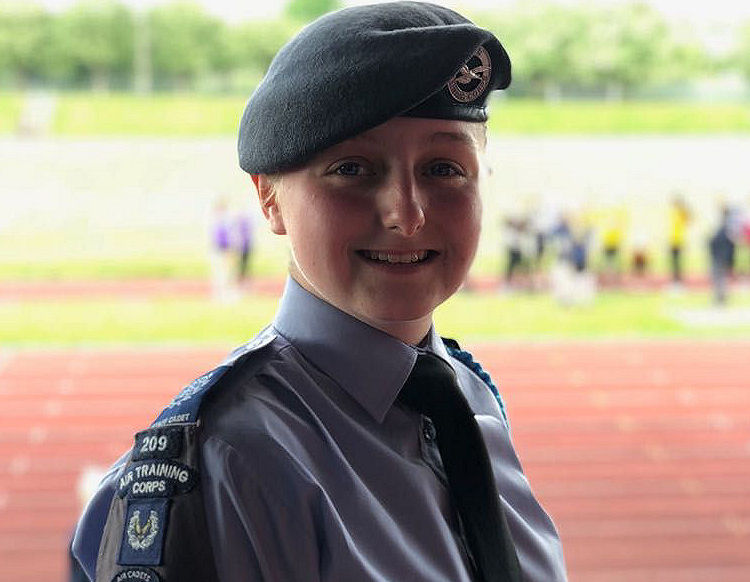 CWO Rebekah Oldknow has been an Air Cadet for over 5 years
Air Cadet Parachute Jump
In order to raise money for such a wonderful organisation, CWO Oldknow has been planning to carry out a number of events. Just last week, Rebekah completed a sponsored static line parachute jump. The first day consisted of ground training in order for her to be aware and understand how to safely carry out the jump – which took place on the second day. This training involved giving Rebekah the confidence to jump on her own, with the parachute being automatically deployed when a certain distance away from the aircraft. If this wasn't enough, she will also be holding a raffle and a silent auction towards the end of the May 2018, to which multiple companies have already generously donated prizes, including Cadet Direct. Cadet Direct are kindly donating £75 worth of Kammo Tactical equipment for her to raffle off, in order to raise money for her chosen cause. Without these donations she would not be able to raise nearly the same amount of money, and charities like RAFA would not be able to carry out the superb work that they do. She has also set up a Go Fund Me page (www.gofundme.com/raising-money-for-rafa) in order to receive and keep track of  donations.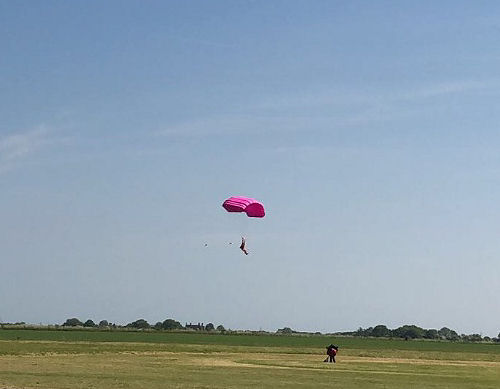 Air Cadet Rebekah comes down to earth after her solo parachute jump
Qualified Aerospace Instructors Course
Rebekah has been an RAF Air Cadet for 5 years and has completed and taken part in a variety of different activities, filling her calendar almost every weekend. She has recently graduated from the Qualified Aerospace Instructors Course – which entailed many different subjects such as Air Traffic Control, Aviation Studies, Air Power and so much more. After a tough and competitive selection process, only 40 cadets in the organisation were successful in gaining a place on 2017/18's 8 month course, so for her this was a huge achievement. She is also a member of the RAF Air Cadet National Concert Band and is the senior female cadet of the Central & East Region Band. Previously, Rebekah has also been the Mayor's Cadet for Rushcliffe Borough Council in Nottingham, which allowed her to showcase and publicise the Air Training Corps outside in public situations. In 2016 and 2017 she was she was also fortunate enough to go to the annual Nijmegen Marches in Holland, where as part of a team of 12, she marched 100 miles over 4 days. The team was also sponsored by Cadet Direct in 2016 who kindly provided the team with brown Magnum boots, making the experience a lot more comfortable. She was recently promoted to the rank of Cadet Warrant Officer, which is the highest rank attainable within the Royal Air Force Air Cadets. Finally, she was also very fortunate to be selected as South and East Midlands Wing's ATC75 Sword nomination for the best female in the wing, which was a huge honour for her.
National Army Cadet Force Band Musician
Outside of cadets, Rebekah is completing her final year of A-levels, studying geography, psychology and photography. Next year she is planning to take a gap year from education, to allow her to gain work experience in a number of different fields so that she can decide whether university is the right path for her future career. In her spare time away from her squadron, she is also part of a retired TA band, the South Notts Hussars, as well as part of the National Army Cadet Force Band which she attends as an Air Cadet.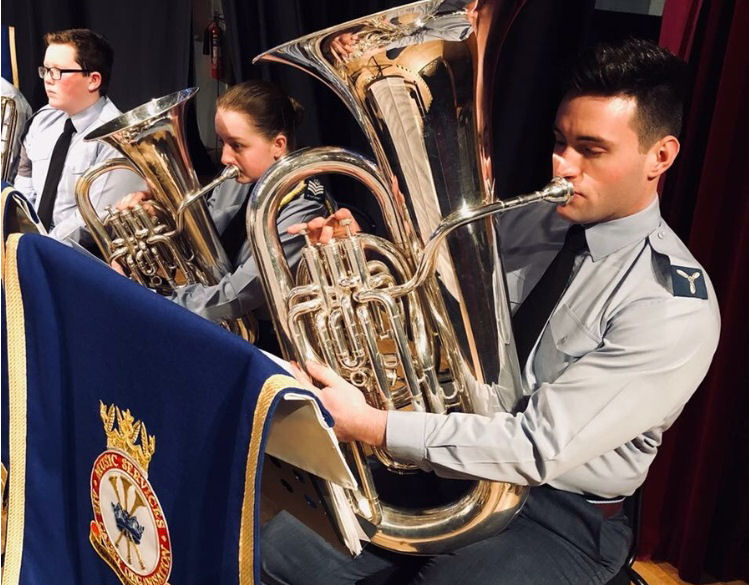 Playing as part of the RAF Air Cadet National Concert Band
Rebekah commented "…Over the years as an Air Cadet, since 2013, I have heard and seen the work that RAFA do for people. The help that they offer is phenomenal, and the cadets is a big focus for them – including the amazing opportunities they offer to cadets via the RAFA Youth programme, of which I was a part of. By raising money for RAFA it gives me a chance to thank the charity from both a cadet and none cadet point of view…"
We'd like to wish Rebekah every success with her fund raising and look forward to hearing from her again in the near future.