 Cadet Direct Ltd
UK's leading supplier of cadet to kit to the Army Cadets, Air Cadets & Sea Cadets
Since 1999 Cadet Direct has been supplying Army Cadets, the Combined Cadet Force, Air Cadets and Sea Cadets with cadet kit including military clothing, footwear, equipment and other cadet tactical supplies. We have quickly established ourselves as the leading supplier to the UK Cadet forces of Air Cadet badges, Army Cadet badges, cadet hats and army webbing and we are proud to offer an extensive and diverse range of products all professionally suited to the regular demands of the Cadets. In other words, there's no better place to go for all your cadet needs. We have a wide range of clothing options specially designed for the cadets, including genuine MTP issue uniforms, thermals, t-shirts, combat shirts, waterproofs, army cadet boots and more. We also include uniform fabrics and Niikwax products in our clothing range. You should also take some time out to look through our 5.11 Tactical Clothing range, which has everything from Taclite Pro Khaki's to Performance Polo Shirts. We also provide various footwear options for Cadets, including boots, socks, polish and laces. You can choose from our specialist range of boots including British Assault Boots, Cadet Patrol Boots, Waterproof Boots and Desert Boots and have a massive range of army boot polish, bulling products and shoe cleaning kit products. We also supply cadet socks ad performance insoles. As well as our specialist range, we also supply various other military products, such as belts, flags, bashas, torches, trophies, navigation tools, cooking tools, combat accessories and survival equipment. Our range of shelter options are perfect for any outdoor exercise, including Bivi Bags, Ponchos, Tents, Multi-Terrain Shelters and vital survival tools. With such an extensive range of products available, we regularly feature specific items on the site every week to keep you up to date with our ever-growing stock. Our products are of the quality expected by any type of military personnel, from experienced survival experts to cadets. Our highly competitive and affordable prices make our products hugely desirable to our growing number of customers. If you're keen to save some money on your next batch of equipment, we have a clearance zone that is regularly updated with quality products at outstanding prices. We also deal directly with manufacturers to provide one of the UK's finest mail order services. You can learn more about our products by calling us today on 01892 662 230.
... Read More
[caption id="attachment_6120" align="alignnone" width="1500"]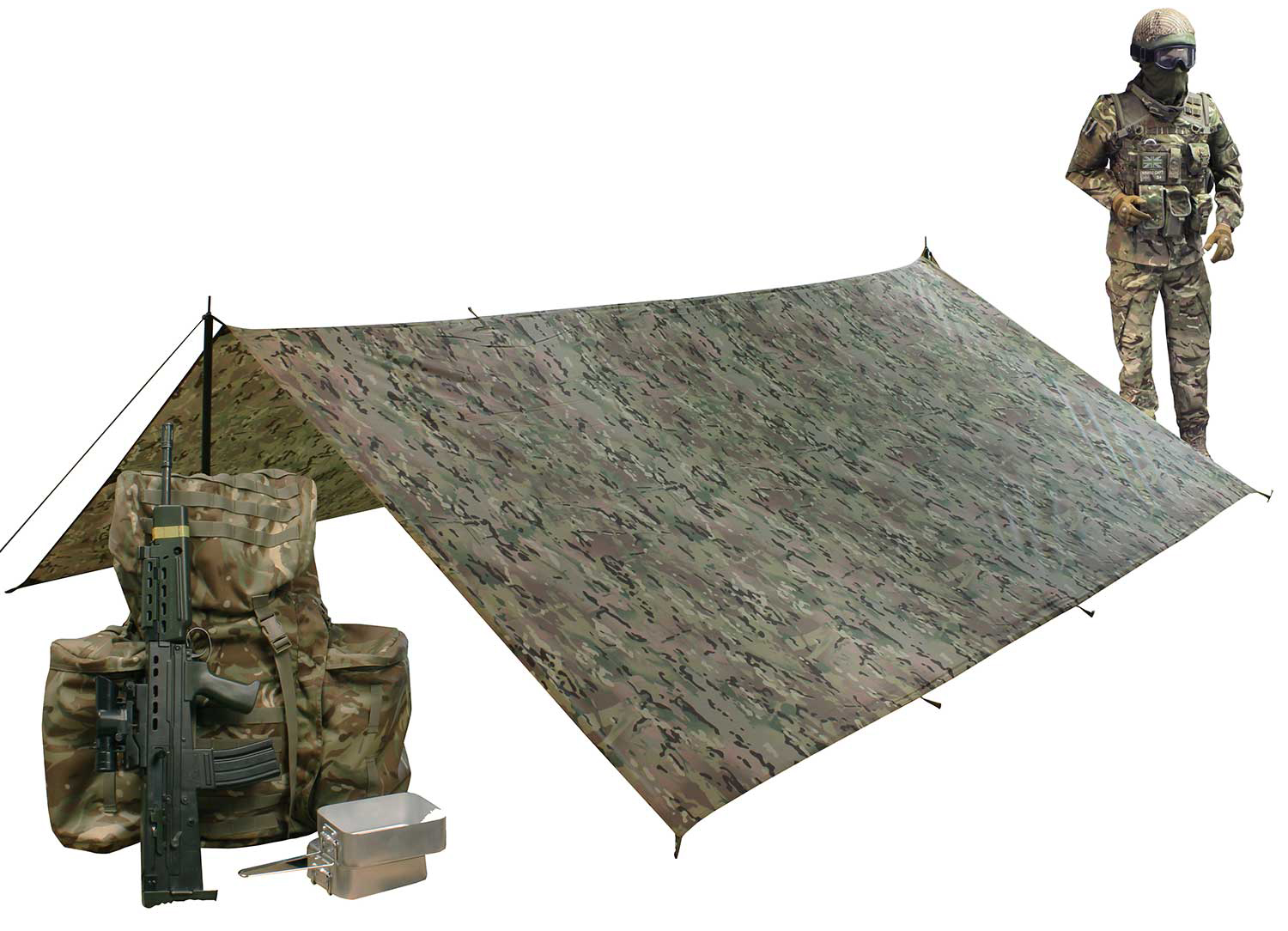 The Helikon Supertarp[/caption] The Helikon Supertarp is undoubtedly the biggest basha on the block. Measuring a whopping 3x3metres in size this monster basha is the first of it's kind. Survival Tech have gone ahead and patented the design and here you'll find out just why. Built from waterproof PU-covered polyester ripstop tarpaulin, the Supertarp is MTP compatible which provides great woodland cover. [caption id="attachment_6127" align="alignnone" width="587"]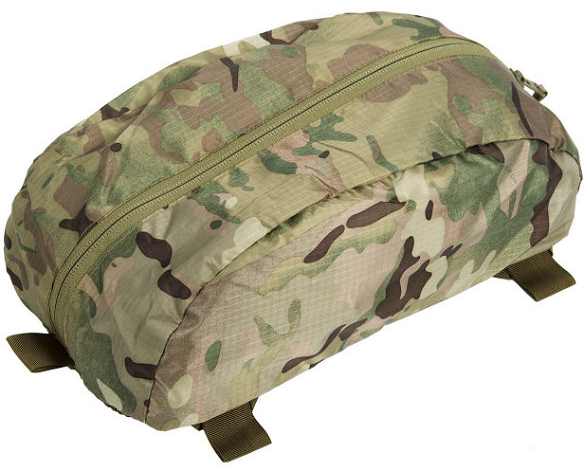 The Giant Basha Pack[/caption] This woodland MTP tarpaulin comfortably hosts 4 individuals with packs and (at least 6) in a crisis. Fancy sleeping in a palace?  House only 2 of you for loads of space. Offering durability even in the most unruley conditions this giant basha is constructed with strengthened weatherproof stitching. The 19 webbing connection rings allow you to bolt on pegs, bungees and guy lines for extra peace of mind. The watertight tarpaulin packs away conveniently into one of two stuff bags. One being a YKK zipped capacity sack with mesh bottom (giving air circulation). The other being a stowage sack which can be utilized to store extra basha pegs and bungees. [caption id="attachment_6124" align="alignnone" width="720"]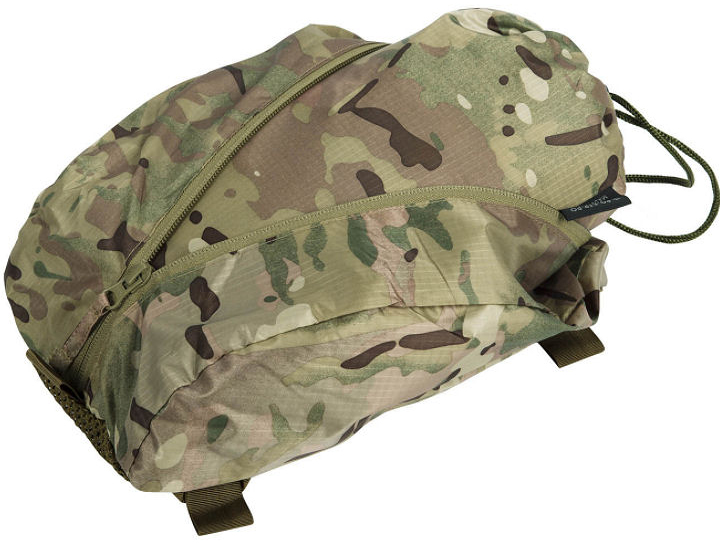 The Two Big Basha Stuff Bags[/caption]
Aided with The Helikon Supertarp, why not have a go at building one of the eight different shelter types below? Depending on which design you choose you will need paracord, bungees and possibly basha poles.
[caption id="attachment_6107" align="alignnone" width="852"]
The Open Sided Basha[/caption] [caption id="attachment_6109" align="alignnone" width="850"]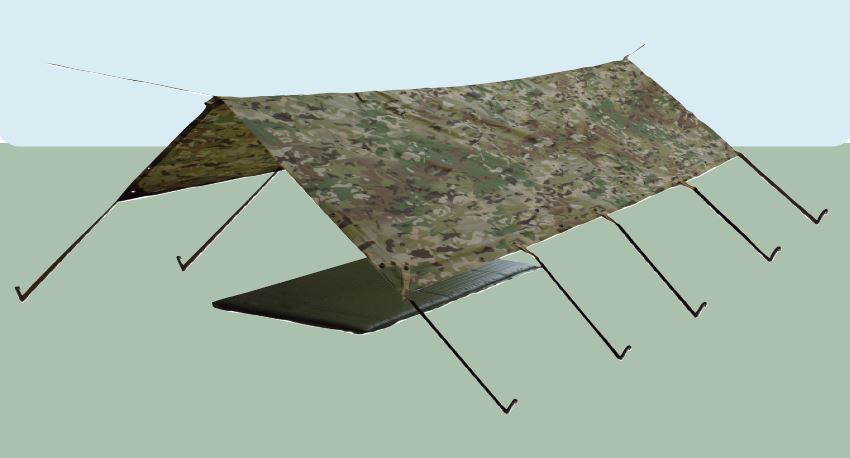 The Suspended Rain Fly Basha[/caption] [caption id="attachment_6110" align="alignnone" width="854"]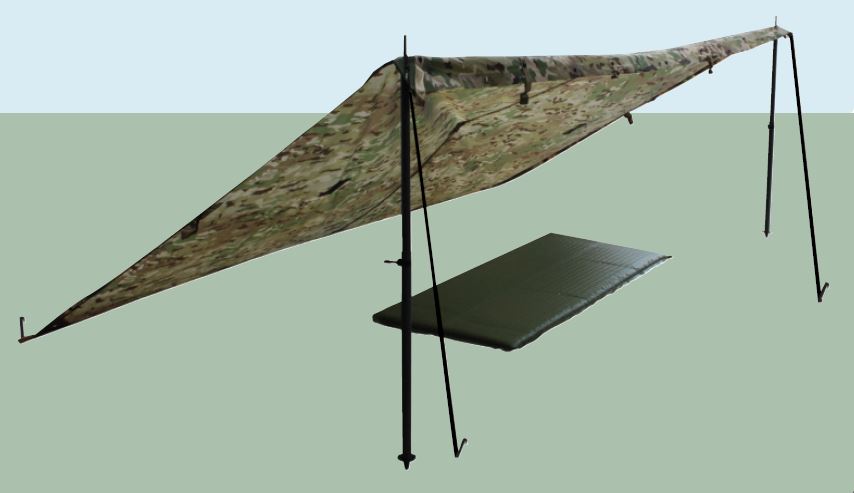 The Lean To Basha[/caption] [caption id="attachment_6113" align="alignnone" width="850"]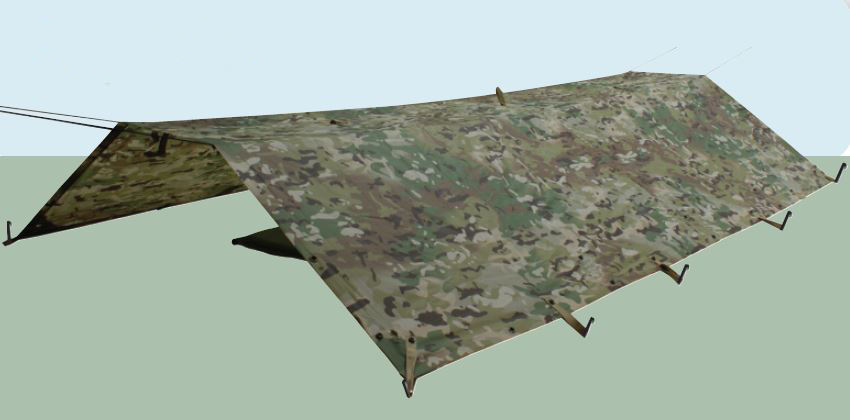 The Square Arch Basha[/caption] [caption id="attachment_6114" align="alignnone" width="858"]
The A-Frame Basha[/caption] [caption id="attachment_6116" align="alignnone" width="841"]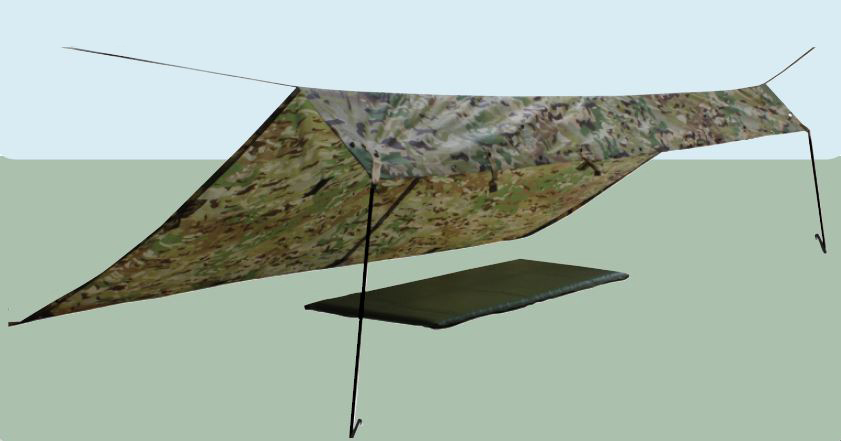 The Windshed Wedge Basha[/caption] [caption id="attachment_6117" align="alignnone" width="850"]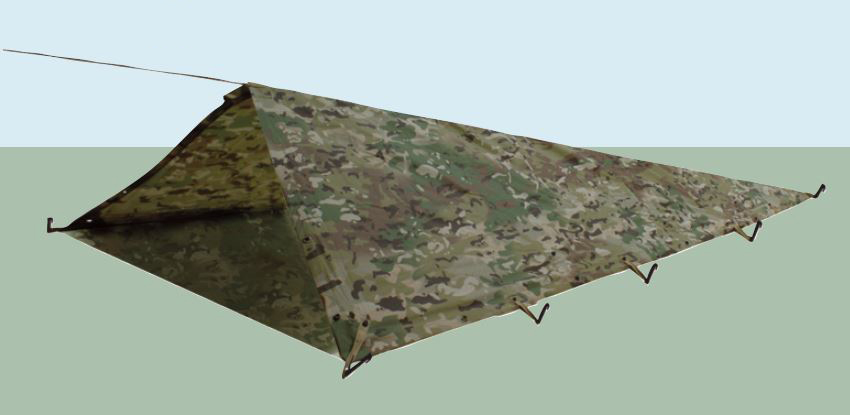 The Arrowhead Basha[/caption]
2017-07-27 12:06:28