The latest Blade Fast Boil Mk 2 is an ultra efficient and ultra fast heating field stove that allows you to boil 500ml of water in under 3 minutes!...

Blade Fast Boil 1.1 Litre Stove Mk2

From

£64.95 was £72.95

View item

Genuine issue Royal Navy personal clothing system (RNPCS) blue, fire retardant lightweight jacket. Bought in to replace the NO.4 AWD uniform, th...

Royal Navy Lightweight Jacket, Blue PCS G1 Used

From

£16.75

View item

Regulation Air Cadets Heartstart Badge developed as part of the New Progressive First Aid Training Syllabus. Features four colour scheme with overl...

Air Cadets Heartstart First Aid Badge

From

£1.75

View item Cadet Direct Ltd
Supplier of Army Cadet uniforms, Air Cadet uniform, Sea Cadet uniforms...
Since 1999 Cadet Direct have been supplying the Army Cadet Force, Combined Cadet Force, Air Cadets and Sea Cadet Corps with military clothing, footwear, equipment and other cadet tactical supplies. We have quickly established ourselves as the leading supplier to the UK Cadet forces of Air Cadet badges, Army Cadet badges, cadet hats and army webbing and we are proud to offer an extensive and diverse range of products all professionally suited to the regular demands of the Cadets. In other words, there's no better place to go for all your cadet needs. We have a wide range of clothing options specially designed for the cadets,
Read More .
including genuine MTP issue uniforms, thermals, t-shirts, combat shirts, waterproofs and more. We also include uniform fabrics and Niikwax products in our clothing range. You should also take some time out to look through our 5.11 Tactical Clothing range, which has everything from Taclite Pro Khaki's to Performance Polo Shirts. We also provide various footwear options for Cadets, including boots, socks, polish and laces. You can choose from our specialist range of boots including British Assault Boots, Cadet Patrol Boots, Waterproof Boots and Desert Boots and have a massive range of army boot polish, bulling products and shoe cleaning kit products. We also supply cadet socks ad performance insoles. As well as our specialist range we also supply various other military products, such as belts, flags, bashas, torches, trophies, navigation tools, cooking tools, combat accessories and survival equipment. Our range of shelter options are perfect for any outdoor exercise, including Bivi Bags, Ponchos, Tents, Multi-Terrain Shelters and vital survival tools. With such an extensive range of products available, we regularly feature specific items on the site every week to keep you up to date with our ever-growing stock. Our products are of the quality expected by any type of military personnel, from experienced survival experts to cadets. Our highly competitive and affordable prices make our products hugely desirable to our growing number of customers. If you're keen to save some money on your next batch of equipment, we have a clearance zone that is regularly updated with quality products at outstanding prices. We aslo deal directly with manufacturers in order to provide one of the UK's finest mail order services. You can learn more about our products by calling us today on 01892 662 230.
... Read More
Review by Lt Richard Singfield of the Kammo Tactical MTP Airborne Webbing Set
We sent one of our new
Kammo Tactical Webbing
sets to The Kings School CCF in Canterbury for a field test at a Skill at Arms course at Frimley Park Cadet Training Centre. This is the feedback we received:
 "For the SAA course I found it comfortable and lightweight, as well as easy to take on and off. The pockets were accessible and I was able to use it to store all the items necessary for the course. The Velcro pockets were ideal for the constant loading and unloading of magazines on the course. I saw others on the course struggle with clips and poppers so I would 100% want to purchase a set of webbing with Velcro pouches.
I did notice that the bottom inside of the pouches was not finished very tidily and over time would fray, this may cause some issues getting caught up in magazines and or ammunition, as well as getting stuck on the often oily weapon cleaning kits.
The handle on the back used for picking up the webbing, or picking someone up off the floor in the field, appeared quite thin and I would therefore be concerned that the stitching may come apart quickly.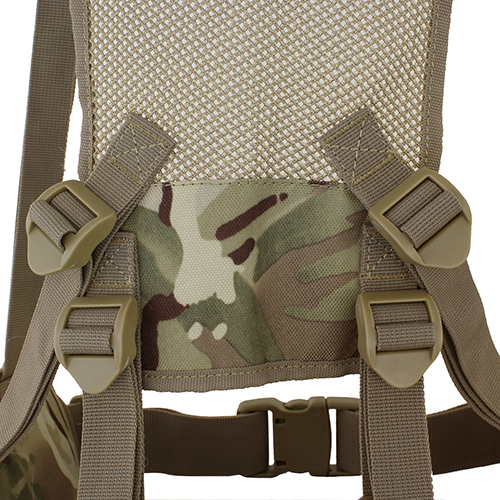 The other noticeable thing, which is more aesthetic than function, in some respects, is the mesh inside the straps and on the back appears too shiny and therefore looks a little cheap!
The webbing appeared similar to the one I used on my CCF basic course last summer, so I would assume it will fit all the kit necessary when fully loaded for being out in the field.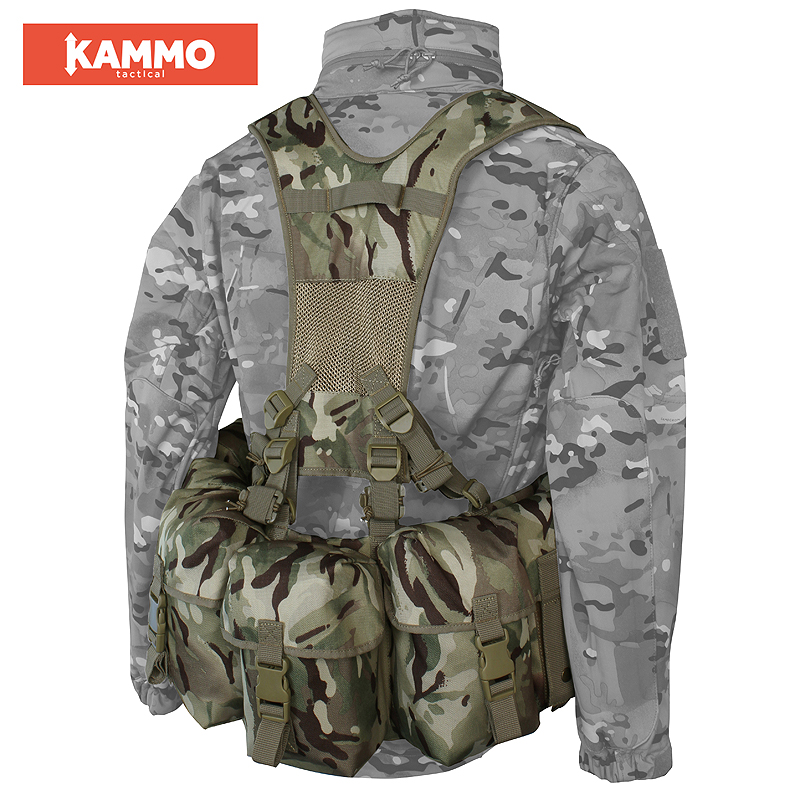 Overall, in my humble opinion, it is a good piece of kit and helped me along to three highly competent SAA rifle lessons, so it did a good job.
Thank you for the opportunity to test out the MTP Airborne webbing from Kammo Tactical."
Lt Richard Singfield, The King's School, Canterbury CCF.
We'd like to thank LT Singfield for his review and also like to mention that his feedback has now been used to amend the product technical specifications for future manufacturing. Due to the popularity of the Kammo Tactical Airbourne Webbing Set we have sold out but we are expecting fresh stock in on the week beginning 29th May 2017. There will be a limited amount of stock so we recommend grabbing yourself a set when the stock lands! Thank you for reading. *Contains public sector information licenses under the Open Government Licence v3.0
Review by LT Richard Singfield of the Kammo Tactical MTP Airborne Webbing Set
2017-05-23 10:19:43