Published: Aug 11, 2016
by Cadet Direct Editor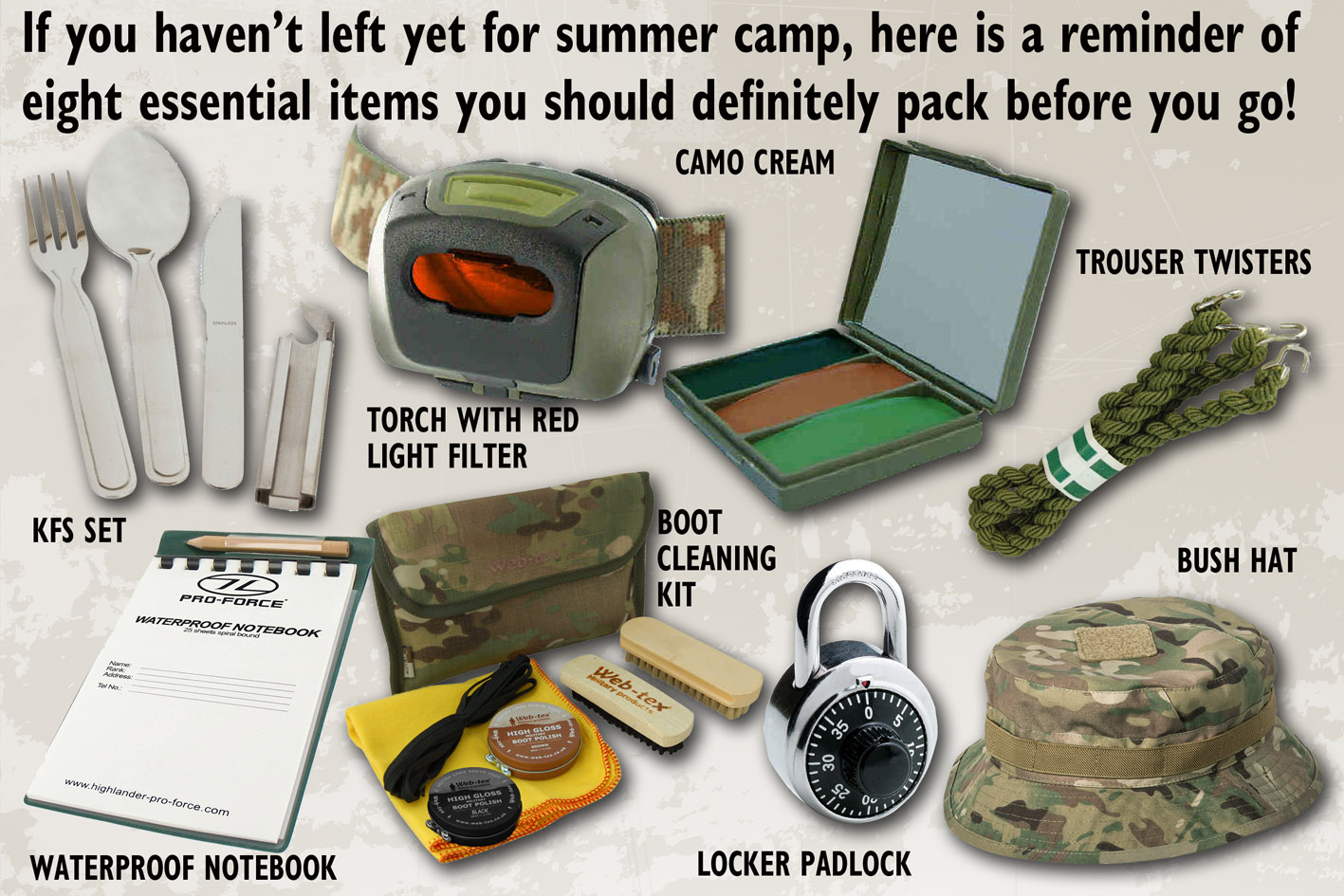 Annual Camp is probably the highlight of the year for cadets and is packed full of challenging activities and is also a chance to spend nights living out in the field. Making sure you have the right kit with you is very important as it will make Annual Camp more enjoyable if you are equipped for the challenges properly. If you haven't yet left for summer camp, here is a reminder of eight essential items we think you should definitely pack before you go and why!
1.Torch with a red filter
Red light torches are used widely within the military because red light is more subdued than white light and is less likely to alert an enemy to your position. In addition red torch light preserves your natural night vision allowing you to see better at night. We have a wide range of red light torches including the Highlander Mira Tactical Headlamp which provides hands free illumination at night. We also have a Red Filter Kit which allows you to Create your own red filter for your favourite torch.
2. Waterproof Notepad
We stock an extensive selection of waterproof military notepads from all the leading manufacturers including Web-tex, Rite-in-the-Rain, Viper Tactical, Highlander and Pro-Force. The Web-Tex Warrior Notebook features grid lined pages which are both waterproof and tear-proof and it can even be written on underwater, making it the ideal notebook for wet field conditions!
3.Locker Padlock
Our Highlander 30mm Brass Padlock is ideal for securing lockers whilst on Summer Camp as well as on rucksack zips and holdalls during travel. Supplied with three keys, allowing you to hand 2 spare keys to your Detachment Commander on arrival, to ensure you're covered if you ever lose one!
4. Boot Cleaning Kit
Our military boot cleaning kits are perfect for Summer Camp because they are compact and take up very little space in your Bergen when out in the field, yet they have all the essential items you need to keep your footwear clean and polished.
5. Bush Hat
A Camouflage Bush Hat/Cap is a must have for the training area at camp. Perfect for providing camouflage and protection from the sun (yet allowing for good field of view). We stock a wide range bush hats perfect for training and operational use including the British Special Forces Bush Hat in Multicam.
6. Camo Cream
Camouflage and concealment is a key skill for any cadet or soldier to learn. The principal of military camouflage is to see but not be seen. We stock the UK's largest online range of camouflage and concealment products to help you achieve this important aim including Camtech Woodland Face Paint & Sunscreen which has been on standard issue with British Forces and is easier to remove than some other face paints – whilst remaining completely waterproof/sweatproof during field use.
7. KFS Set
A compact KFS Set is a really handy piece of kit which usually features a separate knife, fork and spoon that fit inside a holder, making it compact and space saving, making them ideal for camps and weekend training. Some of our sets (such as the Heavy Duty KFS Set) also incorporate a can and bottle opener
8. Trouser Twisters
A small but essential bit of kit! Made from a durable elasticated and fray resistant material with steel hooks at either end and are a comfortable and practical solution to shortening the trouser leg; they give a neat and tidy finish and will keep the trousers clean from the sole of your boots.
Hopefully our 8 essential items have served as a reminder of the sort of kit you should be thinking of packing for Summer Camp. If you have suggestions or questions we would like to hear from you.film The Hunger Games: Mockingjay – Part 2 2015 download
Or why not head over to our Facebook page and have a go at our latest competiton to win all 8 items!