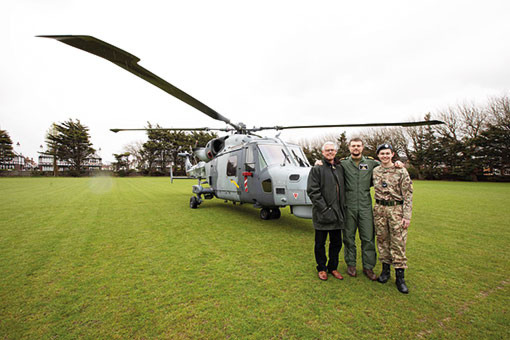 In April, Merchant Taylors' School in Crosby welcomed a Royal Navy Wildcat helicopter to its playing fields. They were celebrating their 103rd annual Combined Cadet Force (CCF) Inspection Day. Merchant Taylors' Combined Cadet's Force was founded in 1915, just a year after the outbreak of World War 1 and is one of the largest contingents in the country.
The special day was attended by 38 senior North West military professionals from the RAF, Royal Navy and Army and consisted of a formal inspection of the Schools' Guard of Honour, which this year was made up of representatives from the RAF section. This was then followed by a review of its cadet's activities and performances.
One of the main attractions of the day was the helicopter flown in by Royal Navy Air Squadron, Lt Cdr AJ Thompson, a former Merchants Taylors' pupil whose younger brother, William, also attends the school and is in the CCF Guard of Honour.
The Wildcat is the latest generation of multi-role helicopters, specifically acquired to operate from Royal Navy frigates and destroyers. Standing at 15.2 metres in length, It has a top speed of 157 knots and a nautical range of 420 miles.
Lt Cdr AJ Thompson said "It's been 20 years since I left Merchant Taylors', so it was a real privilege to bring an aircraft back to the school, as I spent so many years being part of its Combined Cadet Force.
"I was especially proud to be able to share this moment with my younger brother, Will, and see him in the Guard of Honour. The connections to school are so important and I hope we can continue these links in the years to come."
After its arrival, there was a host of activities for the cadets which included an assault course, a demonstration of a section attack, plus the opportunity to view the Wildcat helicopter. This was followed by a review of the schools' Combine Cadet Force Guard of Honour by Group Captain Lawlor. He was accompanied throughout the inspection by the Headmistress of the Senior Girls' School, Claire Tao and Headmaster of Merchant Taylors' Boys' School, Deiniol Williams. After the inspection, Group Captain Lawlor was escorted around the various activities by the top cadet in each of the three sections and met with parents and cadets before watching all 270 cadets take part in a final parade. During this parade, Group Captain Lawlor also presented the Louis Simpson Memorial Award for the outstanding cadet recruit, which was this year awarded to Cdt. Beth Edwards
[caption id="attachment_6877" align="alignnone" width="595"]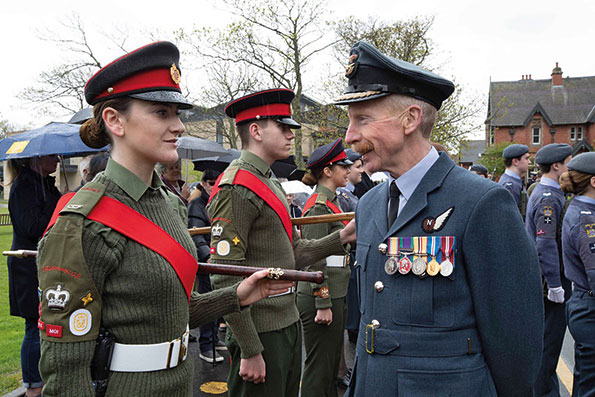 Company Sergeant Major Ellen Murgatroyd & Group Captain John Lawlor[/caption]
Commenting on the Inspection, Group Captain Lawlor, said: "For me, it was a fantastic day. The cadets battled through challenging weather conditions and made the most of the opportunities that were on offer. Regardless of the rain, their determination and enthusiasm shone through. The number of parents who came to support their children brought an added extra to the day, along with the helicopter which was a fantastic highlight, made even more exciting by seeing old boy Lt Cdr. AJ Thompson fly it in."
"Having former cadets attend demonstrates the resilient loyalty they still feel towards the school, as they still wish to return to the place their military journeys began and be part of special occasions such as this."
A special mention was also given to year eleven student, Gabrielle Foster, who presented money she had raised for the Poppy Appeal to representatives of the Royal British Legion, who were also in attendance.
[caption id="attachment_6876" align="alignnone" width="510"]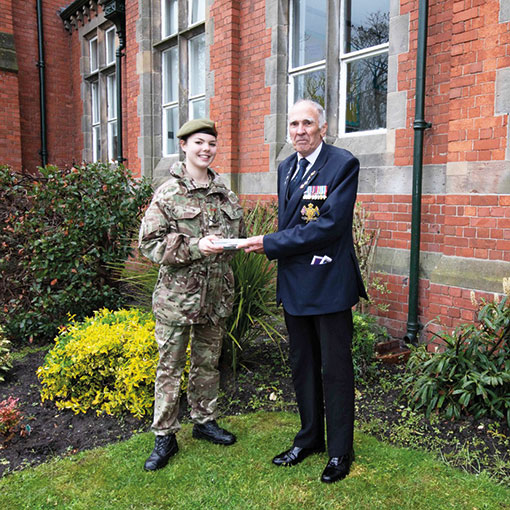 Gabrielle Foster presenting to Royal British Legion representitive[/caption]