Welcome to 1476 (Rayleigh) Squadron, Royal Air Force Air Cadets.
Let me tell you about our annual mess evening. It is affectionately known as the 3 F's dinner, which used to stand for First Friday in February (I wonder what you thought it stood for?!). But now it stands for Third or "Fird" Friday in February! It is an evening for our Officer Commanding and Squadron to celebrate success within the squadron, the cadets and members of staff who put a lot of time and effort into the running of the Squadron to make it the best it can be.
The dinner is open to Officers, Warrant Officers, SNCO's, Civilian Instructors, Squadron Association member, Chaplains and Wing Staff. All cadets are expected to attend with family members and friends. The dress code for this event is extremely strict and all cadets and guests have to follow a strict etiquette.
Officers and Cadets must be in uniform, No. 5 mess dress or interim mess dress for uniformed members of staff; for non-service personnel, the preferred dress is black tie but lounge suits are acceptable. Male cadets wear a black bow tie, white-long sleeved shirt, cadet trousers and polished (to the highest possible standard!) parade shoes.
Ladies are expected to wear ball gowns or knee length dresses with their shoulders covered throughout the meal (although our CO has kindly agreed to let ladies wear trousers this year if they are tailored). After the meal the cadets are allowed to change into casual wear for the Disco.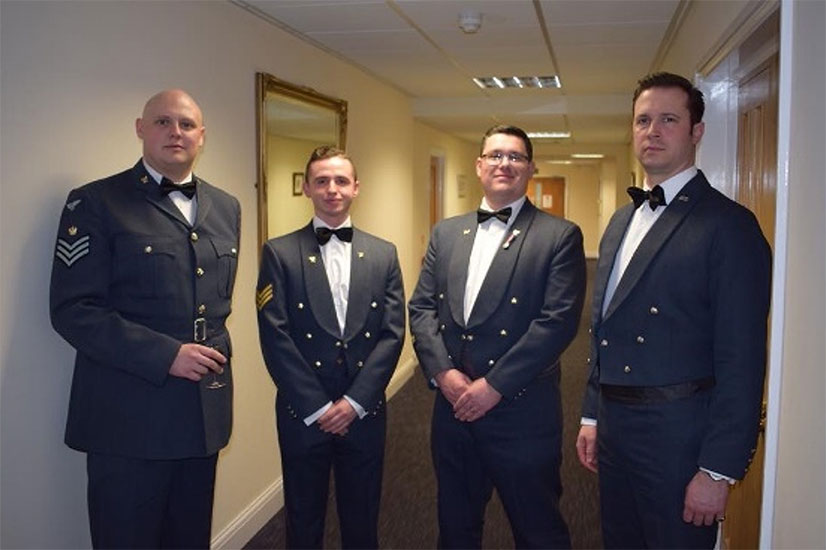 During the meal, which is a fabulous 3 courses, including wine (only for the adults!); you are not allowed to leave your seat. If you do, the tradition is that anyone who leaves their seat has it taken away and stands for the remaining part (advisable to go to the loo beforehand!). There is a comfort break at some point during the meal and the speeches.
Following the meal, port is passed around (to the left only) for the Loyal Toast. This is a salute given to the head of state of our country, our Queen. This is a matter of protocol.
We have a couple of speeches during the evening; one is made by our Officer Commanding and the other one is made by our Guest of Honour – which changes each year.
We sometimes, use this event to hand out awards too. Last year our new Cadets all had their enrolment on this evening.
Once the formal meal, speeches and raffle are finished, we are allowed to change for the Disco and let our hair down (if you're a girl that is).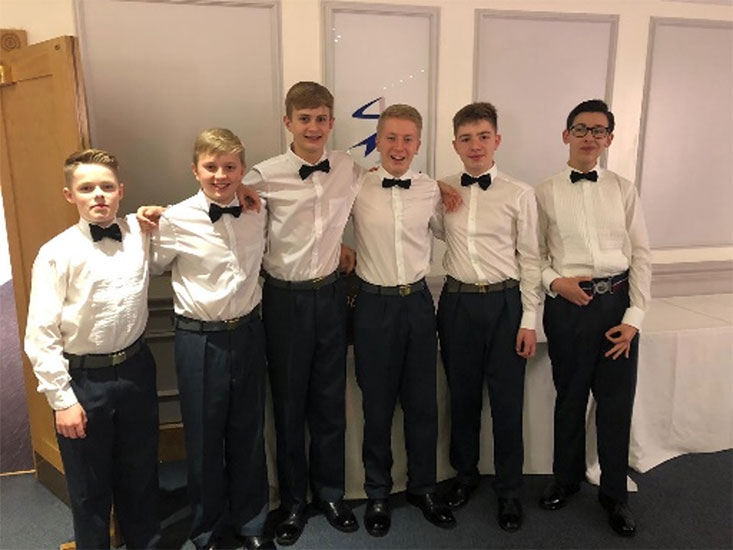 The raffle this year is especially important as we are trying to raise money to build our own flight simulator. Cadet Direct have kindly sent us some prizes to help with this. Let's hope we can raise lots!
Our Squadron offers a full range of training, alongside the Aviation practices which will allow you to develop many skill sets. These skills will benefit you for either joining the RAF as full-time career, or day to day skills in civilian life.
As a part of the RAFAC you will progress through a classification syllabus which includes multiple stages: First Class Cadet, Leading Cadet, Senior Cadet and Master Cadet. After you have passed all of these stages you can request to undertake your Methods of Instruction (MOI) assessment; once passing the MOI course you become eligible to teach most courses within the Corps.
The squadron offers a full training curriculum of subjects and qualifications which range from a B Tech in Aviation Studies, STEM, First Aid and the Duke of Edinburgh Award. The DofE Award programme ranges in length, level dependent, but will all include volunteering, physical activity, learning a new skill, expeditions and for Gold there is a residential section. Practical skills are also a big part of our progressive curriculum as a cadet. These skills include radio qualifications linked with cyber protection and awareness. Alongside with leadership skills which will help to build self confidence in the RAFAC and life as a whole. We also offer music qualifications for basic and advanced musicians.
We enjoy a lot of Adventure Training at the Squadron with kayaking, canoeing, rock climbing, hill walking, archery, mountain biking and much more. We also offer a wide range of camps; last year we went to the Royal International Air Tattoo, RAF Brize Norton, RAF Halton, Shooting camps, Aerospace camp and Fairbourne Adventure Training camp.
The squadron has its own fieldcraft training programme, shooting, first aid qualifications, flying and gliding - with the option for flying, gliding and navigation scholarships for individuals who meet the necessary criteria.